Cultural Program
Ringstraße
Ringstraße
The walk starts at the University of Vienna (founded in 1365), built by Heinrich Ferstel and opened in 1884, and continues along the Ringstraße. We will see some examples of bourgeois palaces, like the one of the Ephrussi family across the street from the University building, one Ringstraßen Coffeehouse (Café Landtmann), the Burgtheater, built by Gottfried Semper and Karl von Hasenauer, opened in 1888, and the Rathaus (City Hall) by Friedrich von Schmidt, opened 1883. Then we walk through the Volksgarten (People´s garden), visiting the monument of Empress Elisabeth, the wife of Francis Joseph by the secessionist artist Franz Ohmann, revealed in 1907, to the Parliament building by Theophil von Hansen 1883, and finally to the Heldenplatz (Hero's Place) surrounded by the Imperial residence with the monuments of the general of the Imperial army Prince Eugene (1663-1736) and Archduke Karl (1771-1847) who was the first to defeat Napoleon 1809 in a battle.
Art Nouveau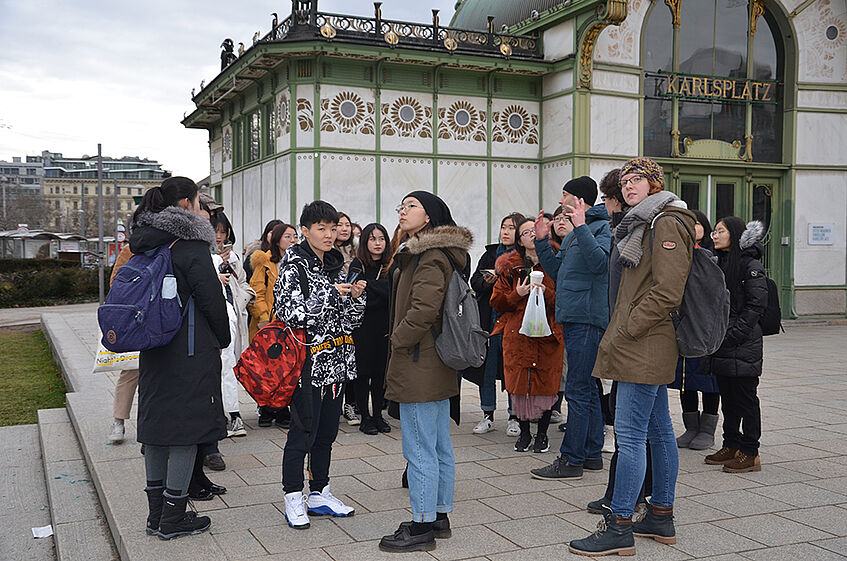 Art Nouveau
This walk, showing some highlights of fin-de-siècle arts, starts at the Karlsplatz. We will see the city train stop (today Undergroundstop) by the famous architect Otto Wagner, some buildings like the exhibition hall (Künstlerhaus), one of the most famous concert-halls in Vienna (Musikverein) and will go to the Secession building, constructed for contemporary arts by Joseph Maria Olbrich in 1897/98. Within this building we visit the Beethoven Frieze by Gustav Klimt (1901), one of the masterpieces of this artist.
We end our walk at the art deco houses by Otto Wagner on the Wienzeile.
Schönbrunn Palace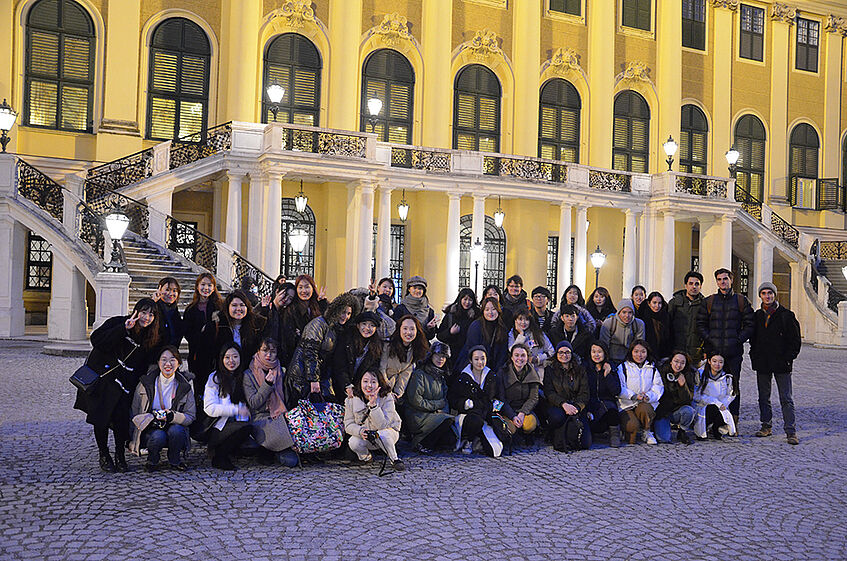 Schönbrunn Palace
Students are given a guided tour through the Schönbrunn Palace, one of the residences of the Habsburg family, during the first weekend.
The Baroque palace was built in the form it looks like now by Maria Theresia, who ruled as the only female from 1740-1780 in Austria. The Habsburg rulers in the 19th century, especially Francis Joseph spent parts of the summer in this palace.
Besides the state rooms and private apartments of the imperial couple you will also see the precious 18th-century interiors from the time of Maria Theresia.
The tour of the imperial apartments and the magnificent state rooms includes the residential suite of rooms occupied by Emperor Franz Joseph and his wife Elisabeth in the west wing, which are furnished in nineteenth-century style, the state rooms in the central section of the palace, the imperial apartments of Maria Theresa and Franz I Stephan, and the Franz Karl Apartment, which was occupied by Franz Joseph's parents, Archduchess Sophie and Archduke Franz Karl.